Thursday, October 05, 2006
Ethiopian Food
Location: Lagano Skies (Whyte Ave, Edmonton)
Rating: ***/5
For diner today a couple friends and I headed out to try something a little different. I've had Ethiopian food before in Edmonton from a place downtown called The Blue Nile but more recently I'd heard good things about Langano skies on Whyte Ave.
While the restaurant is pushing out to the boundaries of Whyte Ave into the ghetto, once inside the painted African plain scenes and sky ceiling combined with what I assume was Ethiopian music provide much needed hope after seeing the run down exterior. Cruising through the menu is a quick education in Ethiopian food and history giving a little background and explaining some of the basic ingredients which seemed to be to be largely chilis. We elected to order a chicken dish, beef and vege. It all came served on a flat crepe like bread that had bubbles in it and a spongy sour taste. The fun is that there are no utensils. It was like back in India, tackling chickens legs, beef and a bean and lentil mixture with fingers and bread. I found that the meal was somewhere between Mexican and Indian food with nothing really popping out at me. Maybe it's just the cuisine but the beef in particular lacked flavor and I didn't get a distinctive sense of character from the food.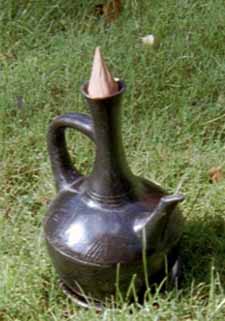 The highlight of the meal was the Ethiopian coffee. When I saw on the menu, fresh roasted in the restaurant Ethiopian coffee I had to order it. Served in a clay pot or jebena with small china cups, I quickly poured a full cup and as I raised it to my mouth could smell the cloves and strong earthy coffee. The beans were very dark roasted by hand and just the right amount of cloves added to give a sweet but not over powering scent. After tasting that I'm going to try adding some ground cloves to my coffee some mornings. I walked away jittering a little since I also worked as Starbucks today and had more coffee than should be humanly possible but the Ethiopian was a nice finish to my day and a reason to visit Lagano Skies.